How It Works
LoveGan's Organic Food Delivery (Toronto) Area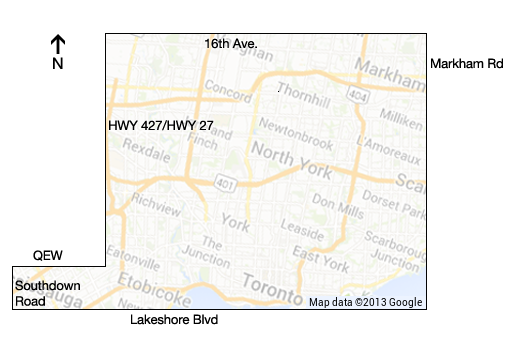 Organic food deliveries are on Wednesdays and Thursdays, depending on your area.
Even if you live outside this delivery area, delivery to you may be possible—just ask! If you live really far outside this area (but within Canada) you can call for details and shipping costs of non-perishable items.
You are in control of what items you receive! With LoveGan's organic food delivery service, you can pick and choose any combination from the organic produce, dairy, meats (frozen) and grocery items. If you like, you can simply have a standing order which you are free to modify at any time.
Meticulous care is taken to ensure that the organic produce you receive is good quality. Furthermore, in summer months, many produce items come directly from a local organic farm (Zephyr Organics), as indicated by the logo:

Nevertheless, if there is ever a produce item that you're not satisfied with, just let LoveGan know, and you will be refunded. The minimum order for free delivery is $60.00 ($70 if your order is all dairy items). For orders less than this minimum amount, there is a $9.00 (plus HST) delivery charge.
Payment is at the time of delivery by cash, cheque, VISA or MasterCard.
Order deadline is Monday at 10:00 am for delivery that week (orders are accepted on holiday Mondays).

Order now, pay later. Orders can be submitted online using the shopping cart. The shopping cart is just used to submit the order. You don't pay until the order comes to your door. Orders can also be phoned in to (416) 992-9993, or emailed to info@lovegan.com.
Specials for Wed April 29, Thurs April 30, 2015
D'Anjou/Bartlett Pears, 2 lbs, Product of Argentina, Chile or USA, Commercial Grade, 5.50 (were $6.50)
Meat Specials -while quantities last
Stir Fry, approx weight 0.7 lb, $10.43/lb 30% off regular price of $14.97/lb
Pork Sweet Italian Sausage, approx weight 1 lb, $7.26/lb 30% off regular price of $10.43/lb
Whole Chicken, approx weight 3 to 5 lbs, $4.08/lb 30% off regular price of $5.90/lb
Chicken, bone-in breast, frozen, 0.5 lb to 1.2 lb, $7.94/lb, 30% off regular price of $11.34/lb
Ground Chicken, approx weight 1 lb, $10.89/lb, 20% off regular price of $13.61/lb

Grocery Specials

Santa Cruz Chocolate flavoured syrup, 440 g, $4.62, 30% off regular price of $6.60
Oak Manor, whole wheat hard bread flour, 1.25 kg, $5.50, 30% off regular price of $7.86
Wheatgrass juice, frozen, 20 cubes, 355 mL, $14.48, 20% off regular price of $18.10
Seapoint Farms, frozen Edamame pods, 340 g, $3.50, 30% off regular price of $5.00
Edward and Sons, Brown Rice Snaps, black sesame, 99 g, $3.36, 30% off regular price of $4.80
Nature's Path, Trail Mix Sunny Hemp granola bars, 210 g, $4.26 plus tax, 20% off regular price of $5.32 plus tax
Native Forest, Canned Mandarins, 284 mL, $2.40, 20% off regular price of $3.00
Lakewood Juices, lemonade, 946 mL, 99 g, $3.85, 30% off regular price of $5.50
Lakewood Juices, carrot juice, 946 mL, $6.16, 20% off regular price of $7.70
Black River, Apple Juice, 946 mL, $2.45, 30% off regular price of $3.50
Natura-A, chocolate soy beverage, full case, 8x3x200 mL, $23.70, 20% off regular price of $29.62
Canadian Heritage Organics, Medium Maple, 1 L, $25.60, 20% off regular price of $32.00
Canadian Heritage Organics, Medium Maple Syrup, 500 mL, $13.60, 20% off regular price of $17.00
Bandito's Salsa medium, 454 g, $3.68, 20% off regular price of $4.60
Simply Natural Salsa medium, 470 mL, $3.20, 20% off regular price of $4.00
Prana, Macadamia Nuts 250 g, $9.62, 30% off regular price of $13.75
Annie's Homegrown, Macaroni Shells and White Cheddar Cheese, 170 g, $3.20, 20% off regular price of $4.00
Prairie Harvest, Spaghetti, 454 g, $3.20, 20% off regular price of $4.00
Prairie Harvest, Penne Rigate, 454 g, $3.33, 20% off regular price of $4.16
Prairie Harvest, Medium Egg Noodles, 340 g, $4.21, 20% off regular price of $5.26
Tinkyada, Brown Rice Pasta, Spirals, 340 g, $3.37, 20% off regular price of $4.21
Road's End Organics, Penne and Chreese pasta mix, Cheddar-style, 170 g, $3.98, 20% off regular price of $4.97
Eden Foods, Pizza and Pasta Sauce in can, 398 mL, $3.32, 20% off regular price of $4.15
Eden Foods, Popcorn (unpopped), 566 g, $4.20, 30% off regular price of $6.00

Non-Food Specials

Nature Clean, Bath Bar, sensitive, unscented, 99 g, $3.35 plus tax, 20% off regular price of $4.19 plus tax
Nature Clean, Auto Dishwasher Pacs, 24 pacs, $6.85 plus tax, 30% off regular price of $9.79 plus tax
Nature Clean, Laundry Detergent Liquid, Unscented - 30 Loads, 1.8 L, $6.85 plus tax, 30% off regular price of $9.79 plus tax